Dog Massage
Aventura Dog Massage is a great business that recently requested a dog massage video which we produced. Just below you will find two different videos although only of them reached production and is LIVE on their website.
This page shows two examples of videos created for Aventura Dog Massage and obviously if you own a dog massage business this kind of videos will be a benefit.
The videos are created using different types of software and without going into detail on how they were produced, it does show the differences between the dog massage videos themselves.
Obviously, we would like to have you as our client creating a video for your dog massage service or in the case you have a different business we are eager to talk to you.
Aventura Dog Massage
The two following videos are for Aventura Dog Massage, a website for dog lovers who are interested in the "adventure of giving their dog a massage".
The request itself was very straightforward like many small businesses do.
a) We want a video that we can put on our website and on YouTube
b) The rest is yours.
Great, we love to work like that, total freedom but that does not mean that we can do whatever we want. Besides the video, the business also wanted to have a Chat Box and a 3D Avatar, through our chatbox services, which in the end was "our" dog avatar which they liked.
The end result of both video and chat must be an increase in leads for sales to pick up and generate more revenue.
Aventura Dog Massage (Male Voice)
The spoken text is the same but using different American voices. If you however are from the UK then you might go for a British Voice or perhaps even Welsh.
This video was created using the same background image as you see here at the start of the page. It is only colourised using "our" orange colour.
You also see that in the first video a 3D Avatar has been used and that is not the case in the second video.
Aventura Dog Massage (Female Voice)
In this case, we took a free image and added some text in a graphical way to give a better understanding of the services Aventura Dog Massage provides.
When you compare the two videos then clearly they are very different and it only shows that the options are limitless.
Video is important to have on your website because of the engagement and SEO value it has by having people longer on certain pages.
Marketing of your Dog Massage Business
It would be great if you could contact us to discuss the opportunity of creating a video for your dog massage business and market it at the same time.
The creation is not bound to the two videos you see on this page. the options are limitless and the same counts for the nature of your business.
You might have found our Video Marketing page showing many different business categories that can benefit from video marketing and obviously a dog massage business is one of them.
Chatbox Service
As mentioned earlier, there is also a chatbox which was very simple. Go through a few statements, request their name and ask to leave their email address for the newsletter.
Nothing fancy.
Chatbox Video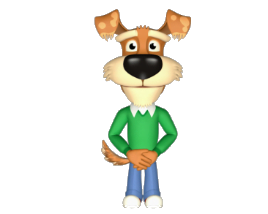 The chatbox video has the same content as the videos above just to keep the project within budget. After choosing a voice and confirmation of the text, the video was created and uploaded to the system.
Most important is a happy client who now generates more leads through our chatbox and video services.
Would you like to generate more leads through chat and video services? If the answer is yes, then it would be great to pick up the phone and call us or just fill in the details below and we get back to you as soon as possible.