Lead Generation through Chatbot
Chatbot for
Lead Generation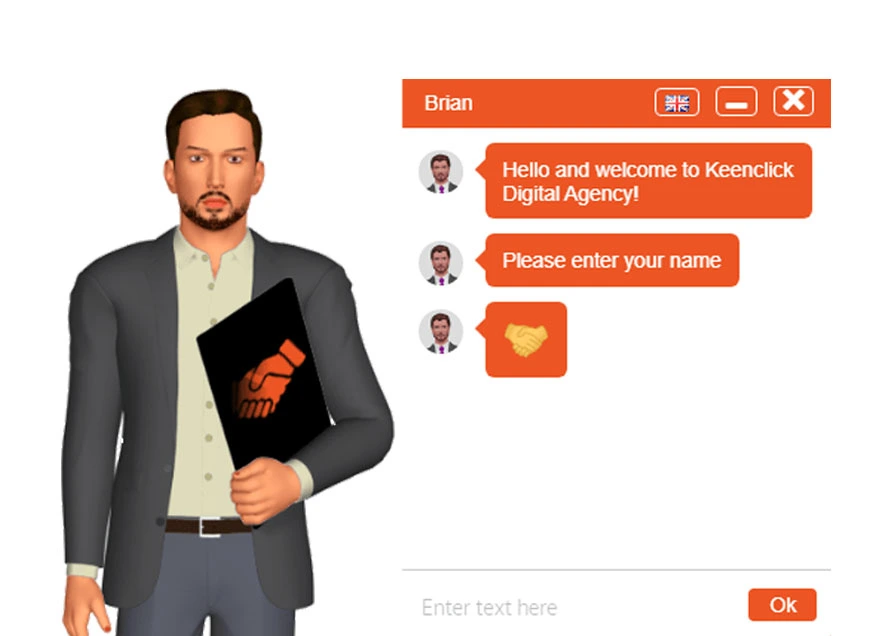 Lead Generation Chatbot Services
Generate Leads through a Lead Generation Chatbot 24×7. You can be asleep and your lead generator is working, bringing prospects that you can turn into happy paying customers.

We, at Keenclick, have the best lead generation chatbot, it is the most advanced AI chatbot available on the market and now available for you.
24/7
Our Chatbot does not sleep.
It is generating leads 24×7.
Automation
Automatically transfer leads
to integrated Zappier apps .
No Waiting Time
Don't let your customers
change their mind.
No Human Errors
Data is as written by the
prospect who can make
errors, the chatbot does not.
Video
Add your own video to the
chatbot and within the
chatbot.
Sales
Use the Chatbot to funnel
the visitor through the sales
process.
The Chatbot Conversion Rate
A quick search in Google on "Chatbot Conversation Rate", tells us that the chatbot is very effective and with the increase of leads and a higher conversion rate your business will flourish.
Implementing a lead generation chatbot that converts visitors to leads 24×7, more prospects and in the end more sales and more revenue for your business and that all for an affordable price.
Our Chatbot Features
Personalised Offers Bonuses
Offer bonuses, discounts and coupons turning visitors into happy paying customers.
Showcase your content and content from websites you do not own and generate leads and sales.
Orders, appointments, support questions are all taken care of with no additional employees.
Live Chat gives you the option to chat directly with your visitors in real-time on any device, that is your website, the visitors mobile phone and tablet.
Guide the visitor through your sales process, improving their experience satisfaction and trust in your business and services.
Our Lead Generation Chatbot Service
Our AI-powered chatbot technology optimises your chat flow, the visitor interaction, in short, it is a proven game-changer for your business.

The chatbot delivers the visitor an engagement with your business that drives results by taking them by the hand to your desired goal.

Reach out to the visitor in their preferred language with just one single click.

Integrate our chatbot with your preferred application like Gmail, Gsheet, your CRM, or any of the other applications that can be integrated through Zapier.
It does not matter what the nature of your business is, when your business needs leads, our AI Chatbot solution will help you.
Business Examples
Real Estate
Real Estate businesses need to be "available" 24×7 and with a website, they do that, however, how many visitors really request info from them. With a chatbot, real estate websites get more leads and therefore more opportunities to make more sales.
The chatbot and the video are completely configurable in the way you would like to have the chat tree going.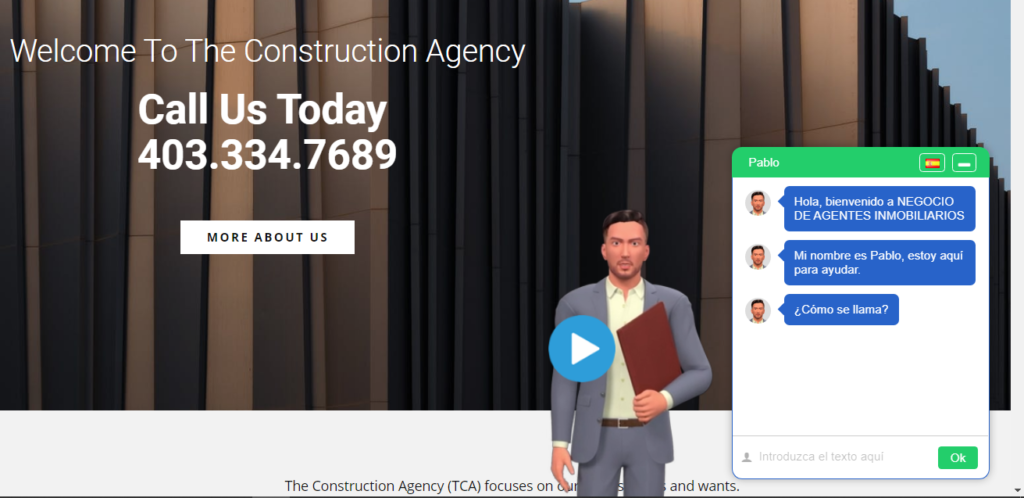 E-commerce store
Let the avatar of our chat agent services lead your visitor through sales-oriented questions. Engage with the visitor in helping them find what they are looking for in your shop. Followed by the guide helping them through the sales process.

The chat agent can check if your visitor has any questions in case they stop while in the checkout process to reduce cart abandonment.
In case a visitor is in doubt, offer a discount to have them finish the buyer's process and for you to have another sale.

Increase your list of subscribers adding visitors who were "just" browsing your shop. Offer them a coupon, discount or promo when they return.

A demo can be found on this simple website which is basically an e-commerce landing page which would be great when you run an advertisement campaign but you can shape it or even have multiple chatbots running on your site.
Brick-and-mortar business
Offering promotions, discounts, bonuses and more to your visitors through the chatbot.
Setting up appointments for your salon or practice on the agenda of your choice like Google calendar saving you and your employees precious time on the phone.
Law Firm
Working for a law firm can be great but hard work and with so much competition it might not be easy to get new clients. The 3D Avatar Chatbot definitely will help you with that. The demo on the page "Discover the World of Bankruptcy Law".
Restaurant
Your visitors can make a reservation, order take-out, or book an event directly through the chat agent.
Affiliate or social media marketer?
Affiliate marketers capture the email address of the visitor for engaging promotions through the newsletter or "funnel" them through a process of options towards an affiliate link.
Showcase your content through the live link, engage with the visitor and lead them to websites using your affiliate link.
Chatbot on your Website and App
The options for businesses are endless. The chatbot works on websites, tablets and mobile. The only thing currently lacking is a call to contact us to start the ball rolling.

The creation of a chat tree is created by us and verified with you. After that it is a matter of deploying that tree into the system and for you to install a small piece of software on your website.

Do not hesitate, your competitors might already be doing that, stealing your clients away.

Contact Us today by filling in the form below or co to the enquiry page for other ways to get in touch with us.
Generate Leads
Before starting generating leads you will need relevant traffic to your website.
Search Engine Optimisation
Check our SEO page on your search engine optimisation services.
Social Media
Advertise on social media or have great content for your social media followers and bring them to your website or dedicated product or services landing page.
Search Engine Advertisements
Google Ads are known and bring traffic to your site. Having a chatbot would be a great asset to turn this visitor into a lead. The visitor already expressed their interest and let your advertisement money not going to waste by missing 30% or more of these same visitors who can become your happy paying customer.
Turning your website into a salesperson is easier written than done, still follow these steps and you are on your
Get The Lead Generation Chatbot Services
Google Ads are known and bring traffic to your site. Having a chatbot would be a great asset to turn this visitor into a lead. The visitor already expressed their interest and let your advertisement money not going to waste by missing 30% or more of these same visitors who can become your happy paying customer.
We do not spam because we do not like that.

Please contact us to make use of our lead generation chatbot, video creation and marketing, and small business SEO services. We are happy to discuss the opportunity of bringing more traffic and converting them to leads. In case you would like to do your own SEO then please visit SEO Tools for Webmasters.