SEO COMPETITOR ANALYSIS TOOL
Understanding your competitors and competition is something you do using the best SEO Competitor Analysis Tools in the market. The best is simply SEO Spyglass and is part of the SEO Powersuite and the great part is that you can download the FREE Edition and start using it. You might not have all the features when you compare with paid editions nevertheles the FREE Edition is more than just a trial version.
SEO SpyGlass gives you the feeling of being a modern Sherlock Holmes investigating your or your client's online competition. Not really a crime no but still important if you want to beat them in the SERPs.
It might be a boring task however you do need to understand what you are up against, next that, you can learn so much from others and the funny part is that they cannot say no.
The SEO SpyGlass simply allows you to create a backlink profile that search all backlinks for any given URL. I write explicitly URL because next to domain and subdomain backlink search, it might be interesting to understand if there are any webpages has particular backlinks.
MULTIPLE BACK LINK SOURCES
Backlinks can be everywhere, they are in Google Search Console, Google Analytics and other database and SEO SpyGlass can import all your backlinks from all these sources into one application that makes it easy to manage and control.
SEO SPYGLASS FEATURES
SEO SpyGlass comes in three different editions.
IS THERE A LIMITED TO THE NUMBER OF PROJECTS?
There is an unlimited number of projects.
IS THERE A MAXIMUM TO THE NUMBER OF BACK LINKS?
There is no limit to the number of back links for the Professional and Enterprise Edition, the FREE Edition has a limit of 1100 back links to analyse.
WHAT IS THE SOURCE OF THE DATA?
The source of the back links can be from many different applications like Google Search Console, Google Analytics or SEO Powersuite Link Explorer.
CAN I COMPARE DOMAINS?
The FREE Edition allow to compare 2 domains but the Professional 5 and the Enterprise Edition allows for 11 domains to compare.
CAN I CHECK THE PENALTY RISK?
You can check and update the penalty risk data with one single click.
CAN I EXPORT DATA?
The FREE Edition does not allow to export data but the Professional and Enterprise Edition allow to export all links to a CSV file.
CAN I EXPORT DATA USING EXPORT TEMPLATES?
Only the Enterprise Edition allows to export data using templates choosing the format to export to.
CAN I DISAVOW LINKS?
You can generate a file, upload this file to the search engines to disavow links.
IS A TASK SCHEDULER AVAILABLE?
The Professional and Enterprise Edition have a task scheduler available to schedule "spying" tasks like back link checkers.
COPYING DATA TO CLIPBOARD
This sounds straightforward but is only working for the Professional and Enterprise Edition and definitely it is great to copy data and use it elsewhere like directly in the browser.
PROFESSIONAL SEO REPORTS INSIDE THE SOFWARE
All versions contain a reporting feature that is not time limited.
PRINTING REPORTS
FREE: You cannot print the report
Professional: Print reports to printer or PDF with a watermark
Enterprise: Print reports to printer or PDF without a watermark.
WHITE-LABEL REPORTS FOR CLIENTS
Customise the reports with your and your client's logo including options to exclude sections in the reporting but only with the Enterprise Edition.
IS THERE AN SEO SUCCESS BLUEPRINT REPORT?
Instructions to get backlinks to outrank the online competitors is only available with the paid editions, the Professional and Enterprise Edition.
CAN I REPORT IN HTML FORMAT?
The Enterprise Edition allows you to report in HTML format and upload to a web server.
CAN I PUBLISH PROFILES?
Create profiles to publish reports to HTML, PDF, FTP or any combination with the Enterprise Edition.
CAN I SAVE AND EMAIL REPORTS?
Saving and emailing of reports is only possible with the Enterprise Edition.
CAN I GET ACCESS TO THE EXCLUSIVE WEBMEUP BACKLINK INDEX?
The FREE Edition allows a maximum of 1100 links per website where the Professional and Enterprise Edition allow a maximum of 40,000 link per website.
CAN I COPY DATA TO SPREADSHEETS?
Copy your data to any spreadsheet to analyse the data using the Professional or Enterprise Edition.
CAN I KEEP THE BACK LINK HISTORY?
Only the Professional and Enterprise Edition allow you to keep the backlink history.
IS THERE AN SEO POWERSUITE CLOUD?
The FREE Edition does not connect to the SEO PowerSuite Cloud where the Professional can store 5 projects and the Enterprise Edition can store 100 projects in this cloud.
CAN I SAVE TO DROPBOX?
Dropbox is fully integrated into the Professional and Enterprise Edition using the Dropbox API
CAN I CUSTOMISE MY REPORTS?
It is possible to customise any report with your logo, your client's logo, your header, your footer and much more, keep in mind that reports are on the screen or printed with watermark (Professional).
HOW MANY TYPES OF BACKLINKS REPORT ARE AVAILABLE?
There are 3 different types of backlink reports: Backlink Details, Domain Comparison and Domain Strengths.
CAN I CREATE ADDITIONAL REPORTS?
The Enterprise Edition allows you to create SEO Success Blueprint Report, Website Backlinks Report and Website Backlinks Analysis Report
ARE THERE CUSTOMER REPORT TEMPLATES?
There are an unlimited number of customisable reports for different projects.
CAN I CREATE QUICK REPORTS?
Choose from the default reports with pre-defined colour schemes.
IS THERE A BACK LINK RANKING FACTOR?
Google PageRank for domain and page, Alexa Rank for domain including the age of a domain, the IP address and other backlink ranking factor data.
CAN I ANALYSE THE BEST KEYWORDS TO OPTIMISE MY WEBSITE FOR?
Understand, spy, on the exact anchor text competitors are using, the number of times keywords appear as anchor text or title, header text, in other words, analyse the keyword density.
CAN I ANALYSE THE MOST VALUABLE LINK?
Analyse the value of each link including where the link is coming from like main site or other sites or internal page.
ARE THE SEARCHES SEARCH ENGINE SAFE & FRIENDLY?
The search are safe and search engine friendly that includes support for the search engine APIs.
IS THERE A LIMIT TO THE NUMBER OF WEBSITES TO RESEARCH?
There is no limit to the number of websites you can research with SEO SpyGlass
CAN I CUSTOMISE MULTIPLE WORKSPACES?
Multiple workplaces customised to your wishes to make the analysing of the data easier.
CAN I WORK FROM BEHIND A PROXY?
Working behind a proxy is not a problem for SEO SpyGlass.
IS THE SOFTWARE AUTOMATICALLY UPDATED?
SEO PowerSuite SEO SpyGlass is automatically updated once you start the software and this is Cross Platform for Windows, Linux and Mac OS X.
WHICH LANGUAGES DO YOU SUPPORT?
English, German, Spanish, Russian, French, Dutch, Polish and Slovak are the languages you can choose for the interface and reports.
THE SOURCE OF YOUR BACKLINKS
Managing your backlinks can be a daunting task, especially when you keep these backlinks in separate spreadsheets. A client of Keenclick has over 200,000 backlinks, and managing these without a proper tool is nearly impossible.
Just imagine the time it takes to open a spreadsheet with over 250,000 backlinks and the information around that, not to mention adding links or any other data.
Just imagine that you have not only multiple spreadsheets managed by different teams but also have backlinks in Google Analytics or Search Console and quickly you can become in a situation that is not manageable anymore.
Being one of the best SEO Competitor Analysis Tools out there, SEO SpyGlass will solve all your problems, you can import backlink information from a wide range of sources.
WebMeUp
Special attention to WebMeUp because SEO PowerSuite Link Explorer delivers backlinks. These backlinks come in huge numbers and with huge we talk about trillions of backlinks and counting that WebMeUp make available for SEO Powersuite.
From the SEO perspective, the methodology is unique and show.
Backlinks that are really significant for you site
Exactly which links in your link profile can jeopardise your site
Analyse the best links your competitors have and act accordingly.
SEO SPYGLASS IN DETAIL
The more SEO SpyGlass is used, the more we learn not only for the benefit for our clients but also for us and for you.
BACKLINK PROFILE
The menu of SEO SpyGlass has a few options
In the image below you see a diagram showing the current number of backlinks and a representation of the link building over the last 3 years. No particular link building project has been setup, nevertheless it is interesting to see the growth from July 2018 to April 2019.
Disavow
In the diagram below it shows that there are several links worth to disavow because they might harm your site more than being productive in giving it a boost in the rankings.
BACKLINKS IN MORE DETAIIL
The summary is just the summary and like other software you can get much more detail when you analyse the data. It is easy to sort on Backlink Page or Links Back but more important is in this case the issues that pop up and you can act accordingly.
If for example it is your own client, then you need to sort it, if it is a competitor then you might be able to get in touch with the webmaster and tell him/her about the missing link and if they can replace it with a link to your or your client's website.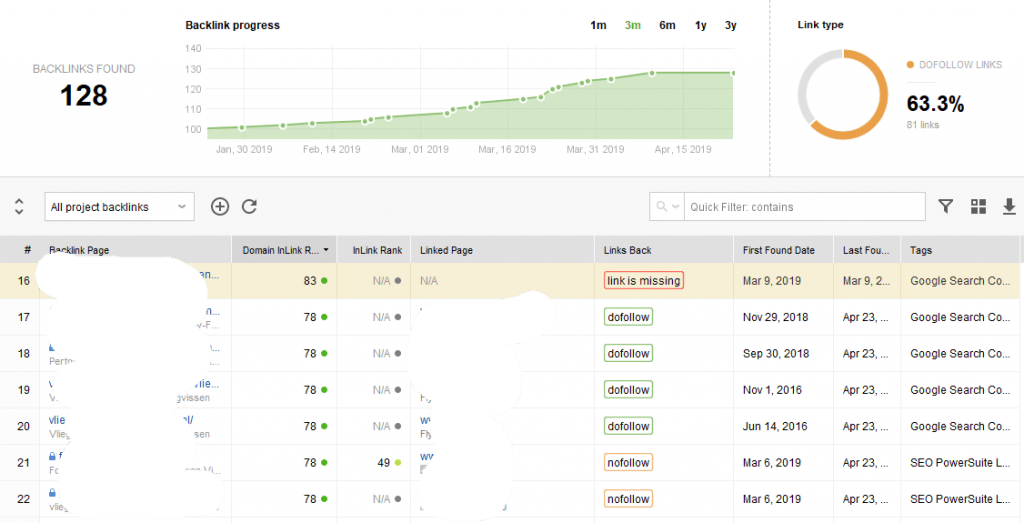 LINKING DOMAINS
The number of links is always interesting to know however this can be not really relevant if 99% of the links come from pages of a single domain. However, when you use subdomains within WordPress like subdomain.wordpress.com for example then it is clearly a different site, nevertheless always be careful that you do not get penalised but that for later.
ANCHOR TEXT
There is already a page on competition research but that is not talking about any SEO competitor analysis tools in particular, it is more a high level, here in this article about SEO SpyGlass I show you how it looks like and what you can do when you use one of the best, if not the best "spying" on your competitors tools.
The image shows clearly different tabs including Anchor Text. Just imagine that you run a project over the website of your competitor and for every anchor text a record will be added to SEO SpyGlass.
It means for you further analysing by picking out that keyword and see how you can use that keyword to outrank the competitor.
LINKED PAGES
To which pages are the linked websites linking to? You will see that there are also redirects and it might be a good opportunity to write the webmasters to update the sites although at the same time, looking at the penalty risk (see next section), there are some sites that you better can disavow.
Referral Traffic
Google Analytics show where visitors come from and that might be from a wide variety of sources.
PENALTY RISK
If you are in SEO then you have heard about Panda and Penguin and other Google's update releases on their own search engine. In the early days, nobody really cared if a website was of low quality, it was all about the links, however these days have been long gone.
In the diagram you see clearly some sites that have a penalty risk associated with it and looking at these sites, clearly it shows that these sites are of low quality and only have links like http://besteoverzicht.nl and indeed in the days these sites were hugely popular.
Next would be to check if there is any traffic in the last 3 years coming from the how quality sites and if there is none then it might be a good idea to just remove the link.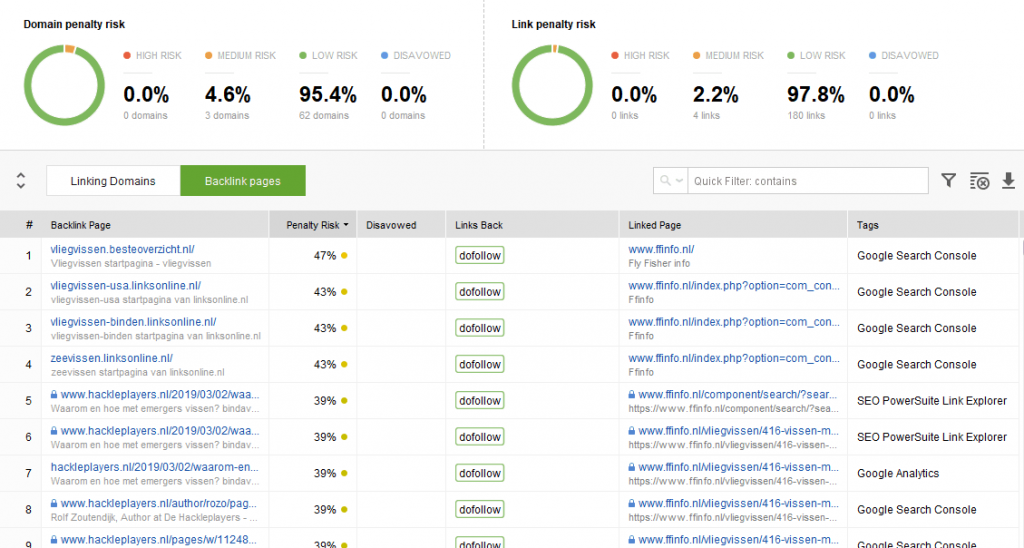 REFERRING IPS
On a single server you can have many websites and although they have all different domains, they can be part of a Private Blog Network although nowadays people who have a PBN will put the blogs on different servers, nevertheless it is a good thing to understand where the websites are placed just to avoid any issues with the search engines.
DOMAIN COMPARISON
It has been written several times that you can spy on your competitors and with the domain comparison you clearly come to a good understanding of the competitors when you can compare the data between your site and your competitor's sites.
The Professional Edition of SEO SpyGlass gives you the option to compare a maximum of 5 domains, the Enterprise Edition even gives you 11 domains to compare.

Comparing multiple domains gives an interesting overview of "Prospective Domains", in other words, domains that you have no links from and then it is just a matter of setting up a campaign in getting these links.
The Professional Edition of SEO SpyGlass gives you the option to compare a maximum of 5 domains, the Enterprise Edition even gives you 11 domains to compare.
Comparing multiple domains gives an interesting overview of "Prospective Domains", in other words, domains that you have no links from and then it is just a matter of setting up a campaign in getting these links.

SEO SpyGlass A TOOL NOT TO BE MISSED
Having written this article it makes it clear that for researching backlinks SEO SpyGlass is a tool that you must have.
The power that it gives you in comparing your site with competitors, the information on the backlinks in the backlinks profile are just so important because decision will be made on that.
When you go over the example here then you see clearly in the "Prospective Domains" of 81.9% that there is great opportunity to get more backlinks from 294 domains.
It might be that not all domains are interesting but that is a matter of research and then automatically we come to the topic of budget.
BANANA PANCAKE RECIPE
Maybe a silly example at the end but if you have a webpage banana-pancake-recipe.html, you might want to know which website is directly linking to that webpage.
It might be that you want to start a campaign around banana pancakes and part of that is contacting the websites linking to you notifying them about the campaign and their benefits if they can bring you more relevant traffic.
The same is when a competitor has written a page about banana pancakes but your recipe is better, more tasteful, you want the webmasters to know about your delicious banana pancakes and ask them to change the link on their webpage to your recipe on your website and if it is a big site you even might send them the ingredients so they can cook these banana pancakes themselves and compare with others, although we are now more or less talking about marketing opportunities and is beyond the scope here.
There are many of these that really can help you with the endeavours to understand the competition or find other options and alternatives for the search engine optimisation process.
SEO SpyGlass Download for FREE
SEO SpyGlass is one of the best, if not the best SEO Competitors Analysis Tools although not all website owners do understand the need of comparing their site with their competition until research will show why a tool like this really help you to outperform the competitors.
It might be too expensive for some business owners to hire a team of SEO specialist and for that SEO SpyGlass can be downloaded including updates for FREE and used over and over again.