Viruses Malware
Hacked Sites
VIRUS INFECTED WEBSITES
During my search for relevant websites as part of the SEO link building projects for my clients, I have seen so many websites that are infected by viruses and malware and wonder how many website owners really know about the health and state of their website.
We all know that we do not want viruses and malware on our computer. Trojan horse viruses and trojan malware can be a nightmare and we want to avoid that hence many use a virus scanner on their computer.
I know, some will say that they run Linux or Mac and therefore do not need a virus/malware scanner, which I do not agree on especially when you think about email that you might forward that includes infected attachments but okay, this is not about the viruses and malware on your computer, this is about infected websites.
For years, I have used the free Bitdefender scanner and I was really happy about it but with free there are always some drawbacks but a few weeks ago I purchased Bitdefender Total Security giving me a log file showing interesting data.
CONTACTING WEBSITES
I run several link building projects and use SEO PowerSuite LinkAssistant to help searching for relevant websites using keywords in the niche of my clients and during that search websites are contacted to search for email addresses in order to contact the website owners.
Another project that I run is a Google Map scrapping job using Google Maps Extractor software that also contact websites to search for email addresses.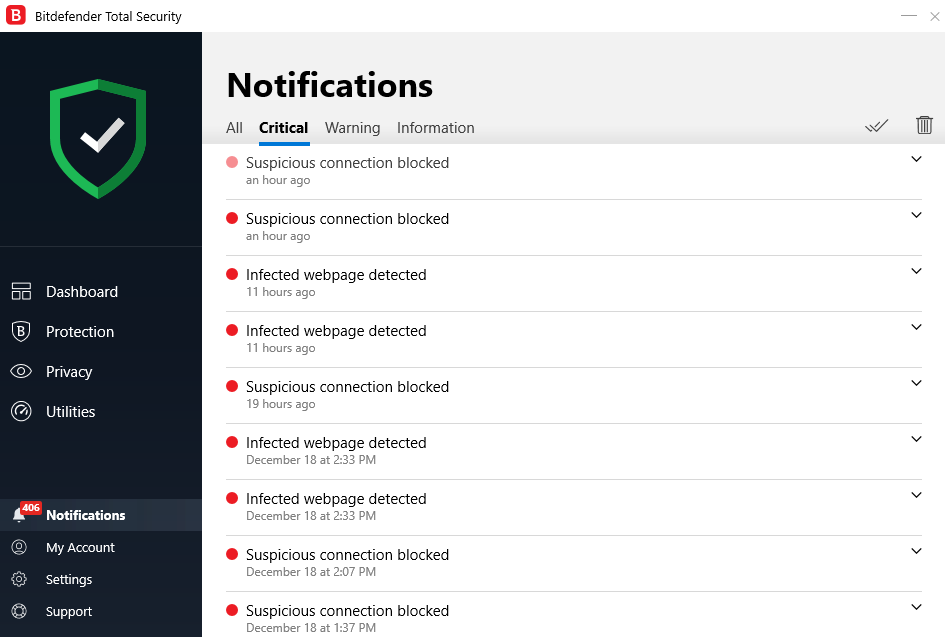 In both cases Bitdefender often pops up telling me that a website is dangerous and place that in the log file.
As you can see from the images Bitdefender Total Security is doing its job although I cannot tell you how many infected websites it is missing but I just need to trust Bitdefender in this.
Going into more detail then you get an understanding of the nature of the infected websites and why Bitdefender Total Security is blocking the site.
BLACKLISTING WEBSITES
You might think why are these sites not blacklisted but reading what Google writes about that then it is clear that Google basically say that the website owners are responsible to keep their website clean.
An interesting read is the SiteLock 2019 Website Security Report in which they state that only 15% of the infected websites are blacklisted, that is a whopping 85% of infected websites that are NOT blacklisted.
If a site is infected then Google will not directly blacklist the site but still these sites can harm visitors' computers but obviously you have anti-virus and anti-malware software installed on your computer and you expect that from your website visitors as well.
CLEAN INFECTED WEBSITES
The majority of the website owners might not even know that their site is infected and that is a pity because website owners should know and also must take steps to clean it.
There are many professionals out there to clean websites that includes me where I cleaned a variety of websites from WordPress, Joomla and PrestaShop.
Checking your website regularly should be part of your overall website maintenance work which you can do yourself or outsource and really does not need to cost too much.
PART OF SEO
Cleaning websites to get rid of viruses and malware is not part of search engine optimisation but is very important because your site can be blacklisted and when it is, it will be not easy to get it back in the search engines. That will take a lot of effort and that is time and money.
It might be that the business you have hired for your search engine optimisation do not take infected websites into account but they should at least look at it and make a scan a regular process and report on it so you can take action.