Chatbot Business Benefits
35 Amazing Chatbot Benefits for my Business
As a small business owner, you have been searching the internet looking for small business SEO services to increase your leads and found that the business chatbot benefits can increase your sales by generating more leads.
We have compiled a list of 35 chatbot benefits for your business.
An increase of 30% more sales would be stunning, but is it indeed the case that the business benefits of a chatbot on your site are so great that you need to have a chatbot in place?
Here at Keenclick, we have a chatbot based on Artificial Intelligence technology that turns visitors into leads and we love that. Our chatbot is working 24×7 and never gets tired. Hunter is hunting for leads and he is good at that. We also have a video to increase engagement which is part of our search engine optimisation strategy.
The ultimate goal of a chatbot is to turn visitors into leads where sales can turn these leads into happy paying customers.
But before you start adding a chatbot to your site let's dive into the world of chatbots and their advantages.
What are the Advantages of Chatbots?
There are many benefits or advantages a chatbot has for your business. So, what are the benefits of chatbots or in our case because we use Artifigence Intelligence, what are the AI chatbot benefits?
Before we dive into these benefits, let us look at some of the chatbot statistics and what leaders in the field have to say about them.
Chatbot Statistics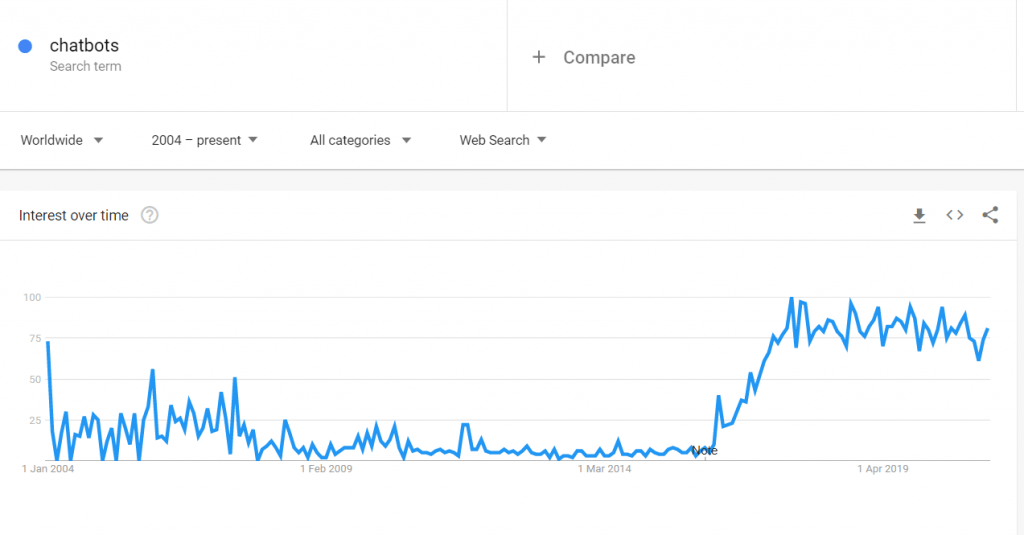 Searching the internet will give so many statistics and mentioning them all just will give a very large article which might take one hour to read. Not sure, if that is what you are looking for, but when you just look at the 4 companies mentioned then it is clear that a chatbot is evident in converting traffic to leads and it saves in customer service costs but at the same time it increases the revenue of your business because of generating leads out of your website traffic.
Chatbot Features and Benefits
It is already mentioned one of the chatbot benefits is that we give the chatbot a face with our 3D avatar Hunter. One of the chatbot features is that once you or one of your colleagues comes online the chatbot can turn into a LIVE chat where you or your support personnel are in direct communication with the visitor.
But let us dive deeper into the world of chatbot benefits and what this might mean for your business.
How do Chatbots Help Businesses?
Below you see a list of chatbot business benefits and how they can help your business reduce costs and get more leads and sales.
General Business Benefits from a Chatbot
24-hour availability

A chatbot runs 24x7x365. Hunter never goes to sleep, he always works and that means that he is ready to answer your question or in our case, steer the visitor in a direction we want the visitor to go. During office hours, or when a colleague is available the robot chat can be turned into a live chat with the visitor.

Chatbots provide immediate feedback

A well-organised chatbot guides the visitor through a series of questions and immediately answers questions the visitor has.

Reaching new customers

Every business is struggling to get more clients, chatbots help visitors become customers.

Increased customer engagement

Engagement with a potential client is important because communication is what visitors need.

Easier Approach to Global Markets

An artificial intelligence (AI) chatbot can be configured in such a way the visitor can chat in their preferred language which is then automatically translated to the preferred language of you or your colleague during a live chat.

Follow the Trends

More and more businesses have a chatbot, it is the trend that is going up and not down.

Easy scalability of support

The support given by your business to the visitor is not "just" general support. Departments can have their "own" chatbot supporting visitors but we come to that once we dive into chatbots on the department level.

Better team productivity

Knowing what visitors want will produce better results within your team due to time-saving figuring out what the visitor is looking for.

Higher customer satisfaction

Customers are satisfied when you chat with them to solve their problems.

Chatbot + Live chat = Complete hybrid customer experience

Switching to a live chat give visitors the experience to deal with a company that is helpful in and outside of business hours.
Costs from a Chatbot
Cost Savings

Automatic processes save time and money and therefore reduce the costs of manpower. Remember that IBM wrote that a chatbot can save 30% on your customer services costs.

A chatbot takes away many standard answers to common questions that your customer support personnel do not need to answer.

Bots save an ample amount of time.

Your employees can concentrate on the more complex requests from visitors when "standard" questions are answered by a bot, this saves time.
When we look at the benefits per department then we can see some very interesting advantages.
Marketing Benefits
The chatbot is part of your conversational marketing strategy collecting information the marketing department needs for their marketing campaigns.
An interesting read is what Forbes wrote "7 ways chatbot tools are important for marketing".
Coming back to the chatbot marketing benefits. The list below shows a good overview but again, businesses are not the same therefore some of the advantages might not be an advantage for your business.
Data Collection

The chatbot can collect data that marketing will use for their campaigns.

Gain Insights by Monitoring Consumer Data

The collected data gives a wealth of information on their consumers.

Branding Face

The usage of an avatar gives the bot a face and can be used in branding. Not only just the avatar but also the name of the bot like in our case "Hunter".

Lead Generation

The marketing department wants to generate leads for sales to turn into happy paying customers.

Product Consulting

Consult your visitors if they are interested in products you do not sell yet, but also ask existing members if they are interested in better products or upgraded products.

Customer behaviour

Gain insights into customer behaviour and make changes to the website, chatbot flow or sales process.

A marketeer wants to know what the visitors do on their website, I know, a lot of this information can be gathered through Google Analytics but remember that engaging with the customer or visitor on your website is an SEO ranking factor because the bounce rate will decrease, the longer a visitor stays on your website the more Google thinks that you have a great website.

Gaining a better understanding of the type of customers.
Branding is an important factor for many businesses. All businesses have a logo, their colours, and fonts and this also can be a real-life person or in our case a 3D Avatar. Yes, it is part of a video but that 3D Avatar has a name, like in our case Laura or Hunter, and even has the logo on her cloth.
HR
The benefits human resources can have by using a chatbot are all to do with recruiting and personnel development.
When we look at what a chatbot can do for your employees, then Gartner has written an excellent article called "4 uses for chatbots in the enterprise".
Of course, we are more focused on the small and mid-sized businesses and not directly on the large enterprises but that does not mean that employees of smaller businesses do not have any benefit of an in-house chatbot dedicated to them.
Support in personnel development

Employees need to develop their skills, the chatbot can guide them through the best steps in developing these skills.

Recruiting / onboarding

Guide the potential new employee through a series of questions to get an understanding of where this person fits into the company.

This initial screening can lead to a reduction of interviews, saving your personnel valuable time.

Centralised Information

Many businesses have an intranet containing many documents about the processes, the chatbot can help your employees find the information faster compared to standard searches.

Automated Processes

An employee can get personal information faster for instance the number of holidays left and send it automatically to his/her email inbox.

The same is for payslips where a copy can be sent to the employee's inbox.

Are your employees happy?

It is possible to run surveys using the chatbot and use the data to get more satisfied workers within your business.
Sales
As mentioned, Hunter is available 24×7 and now imagine that he collects an email address or phone number for sales to contact and make a sale. This means that there are simply more sales because of the data collection.
It is also possible with an eCommerce site where the chatbot guides the visitor through a sales process, supporting the visitor during this process and therefore fewer abandoned sales carts.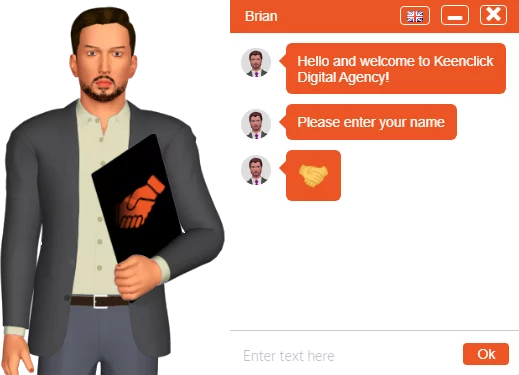 More sales

The use of a chatbot will lead to an increase in sales because of the high retention rate visitors turn into leads.

Qualification of leads

Not all visitors of your website will follow the chatbot and that means that the visitors that do follow are more qualified to purchase your products or services, this means better lead generation for your business saving you time and money and increasing the revenue of your business.

Support throughout the sales funnel

During the sales process, the chatbot can guide the buyer or your product or service through the funnel, helping him/her along the way to your desired outcome and that is the order you would like to see from the buyer.

Nurturing

The chatbot cares about the visitor and will engage in a pleasant way helping the visitor along the way through the process you have set up.
Customer Service
The all-important customer service can be general customer service but also per department like sales, return of good service or any other department that needs a service towards customers.
Answering FAQs

Going through a FAQ can be very boring and long especially if the FAQ structure is not the best in the world, the chatbot guides the visitor through the FAQ to get the information quickly.

Support in case of problems

Instead of calling and waiting in a large queue, the chatbot helps visitors in case there are any issues. Your employee can take care of several chat sessions, chat sessions can be sent to other colleagues with more subject matter skills, keeping the chat history in place.

Improved Customer Service that speaks for themselves

Extensive Customer Assistance

Always 24×7 Automated Customer Support

Increased Proactive Customer Interaction

They help to search for information.

They make it possible to communicate via relevant channels.
IT Service Helpdesk
It was already mentioned that a chatbot can facilitate support from many departments that include the IT department.
Support for internal or external service desk applications
Of course, all the benefits just mentioned are benefits for businesses but what about the customers? What is the benefit of a chatbot for customers?
Customers
When we look from the customer's perspective then there are benefits for them as well.
These were just several benefits of having a chatbot for your business. Maybe not all are interesting, especially in smaller businesses where there are fewer departments, nevertheless, it is clear that chatbots save time and money next to the generation of leads increasing your sales.
If you are still not convinced, perhaps give us a call or go through the following list
Your Industry
Tourism: In tourism, chatbots are very popular. Guiding visitors through the booking process automatically adds the visitors' detail into your booking system and help with the payments.
Finance: Have the chatbot answer questions about online banking or answer questions on topics like credit or debit card loss, account openings and opening times of different branches.
Education: Guide the visitor through the online or offline training material, have the visitor book an interview in your calendar system or collect information like a telephone number for a callback.
Real estate Chatbot Benefits: Showcase new properties, and arrange views imported directly into your calendar. Collect phone numbers and email addresses for follow-up by the sales department.
Healthcare: Many businesses in the healthcare industry like acupuncture services can use an acupuncture lead generation chatbot to automatically book appointments in their calendar.
E-Commerce: Guide the visitor through the sales process of your e-Commerce platform, FAQ, and collect email addresses for marketing.
Chatbot Benefits Conclusion
It was a long read but you managed till the end and by doing so it must be clear that your business can benefit from having a chatbot on your website.
Do not hesitate to get in touch with us using our contact form or better our chatbot that you will find to the right.
How to use a Chatbot on a Website?
The usage of chatbots is per website different but common is to create a chat flow that is controlled by the business or website owner. The chat flow is a chat tree that is followed and based on the answer to a question a certain direction is followed.
How to add a Chatbot to my Website?
We cannot speak for other chatbots than ours but a small JavaScript is added in between the header tags of every page. For the majority of the website, this means that you only need to add it once because this header is automatically generated by Customer Relation Management software like Joomla or WordPress.
How Chatbots can Transform your Small Business?
As a small business owner, you do not have the time or resources to be always available on the phone or outside office hours. The chatbot takes over to collect the needed information from the visitors for you, so you can contact the visitors and turn them into happy paying customers. This way you are "always" available, earning more money and have a better customer engagement.